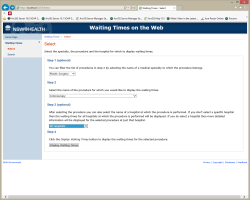 Selecting procedures to display waiting times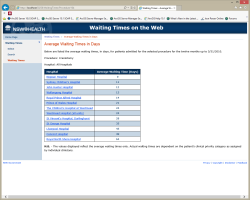 Waiting times displayed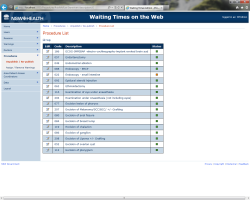 Admin site to manage procedures etc
project name
NSW Ministry of Health - Waiting Times on the Web
the aim
NSW Ministry of Health (MoH) provide to the public relevant information about public hospital waiting times and waiting lists.
MOH required a suitable solution where Waiting Times information could be entered, maintained and published at any time, and a public website is available for the information to be easily searched and accessed.
the solution
The Waiting Times on the Web (WToW) is a web based application using:
Microsoft .NET Framework
Windows Server
SQL Server
ASP.NET
Windows Communication Foundation (WCF)
MVC
The Waiting Times application comprises of two components:
An admin site where waiting times information can be added and maintained, and
A public website where the public view the waiting times information.
Tags
more details
For more details please use our 'Contact us' page or email us at info@spatialintelligence.com.au